This entry will be all over the place.
Don't grade me on thematic continuity.
I did manage to survive all the social events from
my last entry
, though my wallet is probably not pleased. On Monday we only went to Number Nine, actually, but Ben G. had decorated a whole section of the bar for Justin and someone brought a Harris Teeter cake, so it was lovely. Drag bingo was a little weird but fun, and I'm glad I rushed over there after work and the gym to participate. And JR's was crowded on Friday but I did manage to talk to Ken for a few minutes, better than Saturday while the movers were here and it was a total wreck.
Plus there was one long-planned event that I forgot to list: Michael I.'s birthday dinner at Jack Rose last night. It was intended to be a surprise but when Andrew and I arrived that had already been blown by the Michaels running into other guests. Although it was a verrrrry long dinner, we had good conversations, my rockfish + shrimp + grits were amazing, and the "Whiskey Sommelier" blatantly hit on me. So that's a win. Let's now put the Bar Trash Lifestyle on hold for a while.
We will be watching the Oscars tonight. Yes, they are a self-congratulatory and insular group, hence they tend to nominate the people that look most like themselves (and how much more difficult it is to even get cast in roles or get your script produced if you're a person of color is another matter). As a response, we at work decided to run an Oscar pool with all proceeds donated to a local group in the dramatic arts that supports people of color and in particular interested kids that might otherwise not have a foothold in this world. So there's some liberal feel-goodedness for what is usually just a spectacle on another coast. :)
Finally, the local news as well as my discipline-specific networks have been buzzing from the news that
DC's first streetcar line finally opened
, about four years later than originally planned. There is much deserved scorn for the many flubs that led to the significant delays, but overall it's a worthy project and does fulfill a transportation need*. Of the many (many) people that chimed in about how it's a waste and a failure and so forth, none actually live or work in the area it serves, so I've been annoyed by that. This is a basic tenet of engaging with the public: proponents of projects are concentrated but opponents are everywhere, and social media just helps find more opponents. But no matter! The thing finally is in action.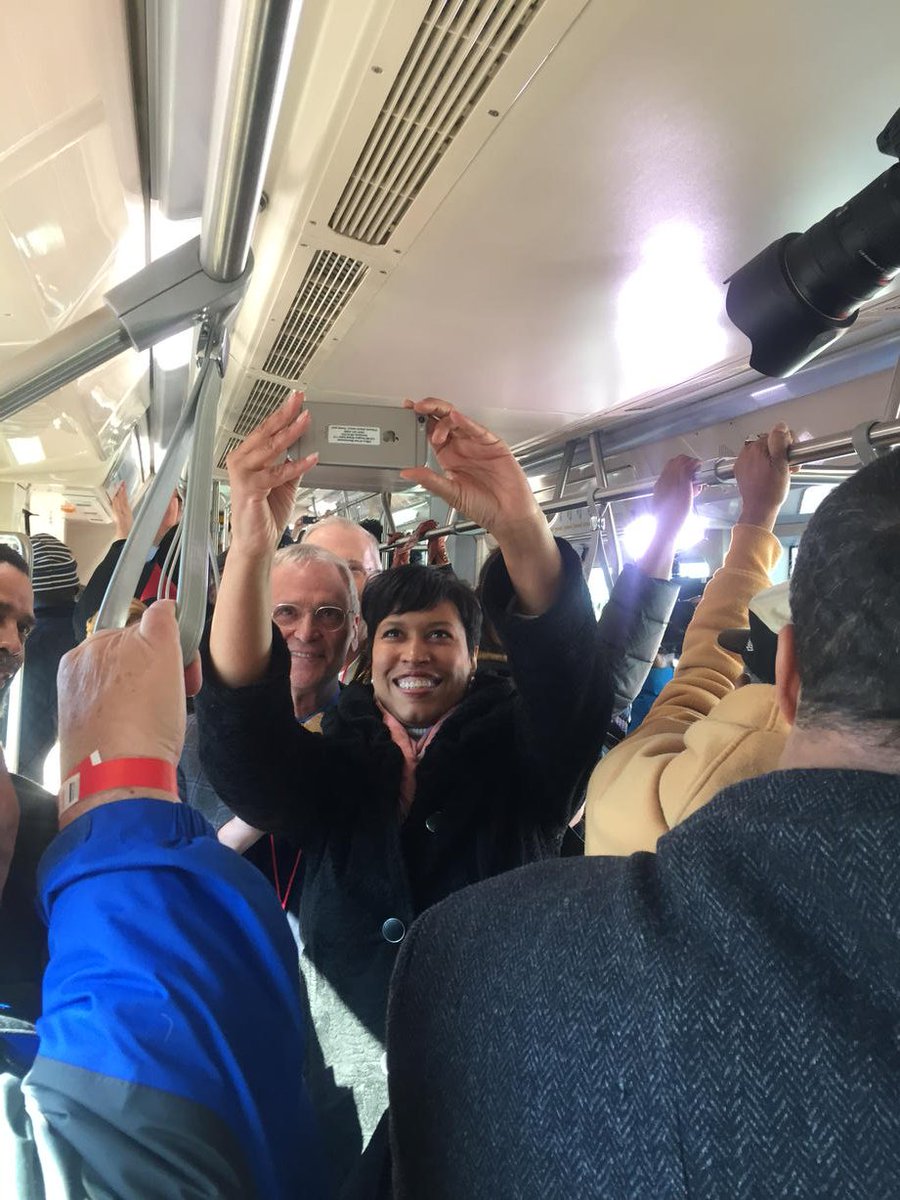 Bonus photo: the mayor on the inaugural ride.
Now we are going to the grocery store. Because I went to Target yesterday morning when B was still asleep and didn't get his handful of items he needed for dinner tonight. That muffled sound you hear is my wallet crying out again.
* It's much wonkier than I expect the readers of this blog care to know about, so I'll hold off for now. Maybe a separate entry later.
Comments {8}