I wanna vist from KwanzaaBot!
« previous entry | next entry »
Dec. 11th, 2004 | 10:05 pm
mood: I think I'm paranoid
music: And complicated.

I finished with the semester last night at 8 p.m. And I've already gotten four grades, which are much better than I expected! My GPA has officially crossed into above 3.0 territory again, hopefully for good. My health policy grade awaits, and I expect it to be pretty good.
So naturally the form of celebration was getting drunk. Weiting Nathan and I walked to Betsy and Juan's apartment around 11 for her Christmas party. We imbibed and made Christmas decorations for her leetle tree, then imbibed some more. People in attendance included Brian W., Kyle, Anthony, Adam, Topher, Micah, Latriece, Mona, Jessica, VJ, some NC State peeps, and probably lots more that I'm forgetting. Things I learned at the party:
1. Sex with someone much older is not terribly bad (this was a conversation, not an experience ... dirty hoes, hah)
2. Making out on someone's couch when there aren't 20 other people to shield you is kinda sketchy. Heh. Sorry guys.
3. Kettle chips are made in Salem, Oregon.
Now some crappy pictures. The apartment has unusual lighting, so these might not show up so great.
Chrissy, who stopped by during a break from massive paper writing, and Brian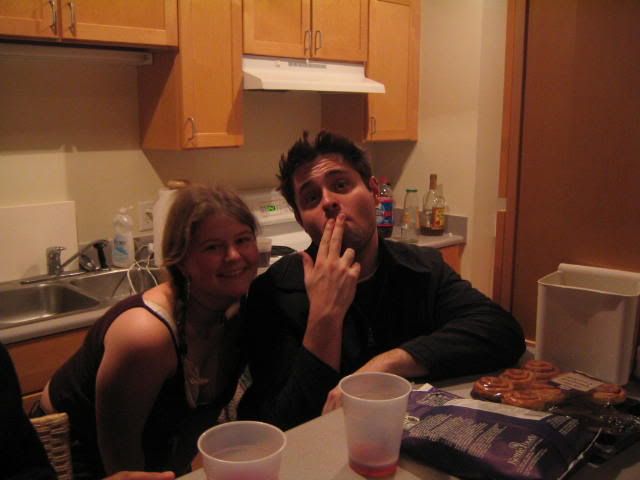 Anthony Betsy and Brian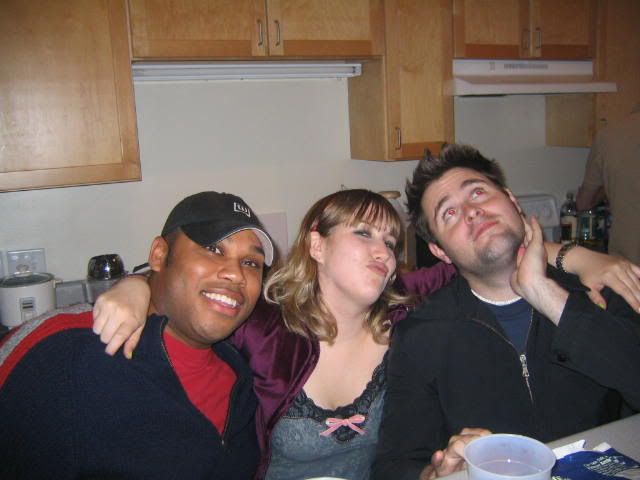 Weiting + Micah
Matt and Barden, fresh from Sprawleigh, with Ting and Nathan behind them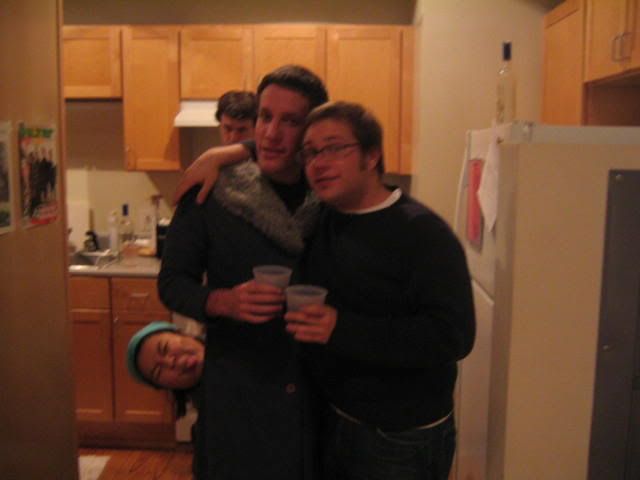 Barden and Ting blocking the tree, heh. My fabulous decoration was on the other side anyway.
Today Nathan and I got up around 11.30 and killed minor hangovers with lots of water. Then he went off to find his blazer and pick up Kym. They came back here and we gave her the tour of the house, then went to Elmo's. It was extremely packed but worth the wait because we got fabulous stuff like pumpkin pancakes and blueberry & cream cheese stuffed French toast. We stayed there chatting for an hour and a half, then dropped Kym off at her apartment and went to the Colvers' to drop off Nathan's recommendation, and we ended up talking about being un-P.C. and graduate school and stuff with Russell and Chuck for about an hour. Their cats sort of tolerated us, heh. And their house is so gorgeous! Anyway, that's about it for now. Tomorrow: shopping, taking Ting to the airport, and Mass at the church down the street that I've not yet been to.
I leave to New Mexico on Tuesday, so don't expect more pictures until sometime in the New Year, but I'll make random posts whenever possible.
Comments {6}